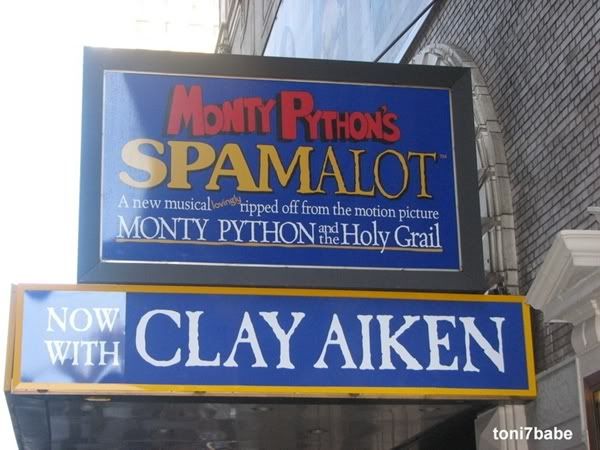 Who was lucky enough to see

Clay Aiken

shine on the

Spamalot

stage?
Clay

starred in the role of Sir Robin. He also took the smaller roles of a monk and of guards.
Not being among those attending, I was glued to the Clay message boards every show waiting for reports from the Clay fans attending. They were so good to read, then the after show reports of Clay going to greet the throngs of fans to sign autographs..and have his picture taken. What a treat for all of us unable to be there.
I made this montage from the TV and news internet news clips.
A Few Audience Comments:
"...his British accent was spot on"
"...his dancing was fluid and professional"
"...his character acting and expressions were hilarious"
"...he did not appear to be nervous at all"
"The other actors seemed to really appreciate him"
"In the curtain call, Clay was second to the last to be introduced. He was the superstar of the show, his castmates acknowledged that. Standing ovations were the norm for him. His face was lit up as he absorbed the love from the audience and the respect from his peers."
"He did the Russian dance......PERFECTLY! He was spot ON!!! "
"...his comedic timing with this dialog is perfect! "
"He blended in perfectly as part of the ensemble cast"
"By the end of the show you almost forgot it was CLAY
up there. He was an ACTOR!"
Comments like this continued to pour in throughout both of Clay's Spamalot runs.
The media heaped well deserved praise on Clay's Broadway appearances.
Playbill
Aiken, who played a Jan. 18-May 4 '08 stint in the Tony-winning musical at the Shubert Theatre, will return to the New York cast Sept. 19. He will reprise his role of Sir Robin through Jan. 4, 2009.
In a statement Aiken joked, "Since leaving Spamalot in May, jokes have just not been funny. Food has lost its taste. The grass is no longer green - the sky no longer blue. And, babies won't stop crying!! I'm so excited about coming back to the funniest show in the world!"

Broadway blog-Spamalot Crowd Crowns King Clay
Spamalot Crowd Crowns King Clay
While he may be playing a "Sir" on Broadway in Spamalot, it is safe to say that he was King Clay Aiken at last night's opening. Of course, Spamalot has an excellent new king in Michael Siberry, and an awesome Lady in that lake with Merle Dandridge too. The new additions to the cast of Spamalot all seemed to walk on air, and this up close look at the celebratory curtain call can't help but put a smile on your face. American Idol star Clay Aiken is a natural on Broadway.
This is the excitement that happens on those rare occasions on Broadway. At the moment, forget Harry Potter star Daniel Radcliffe in Equus, and Katie Holmes, Tom Cruise and their entourage of Scientology protesters at All My Sons, or even forget Entourage's Jeremy Piven in Speed-The-Plow, or Ace Young in Grease. The big story on Broadway today is Clay! He is back on Broadway, and the fun has begun.
Photos by
toni7babe, dancer dad, bobyshar, scrpkym
.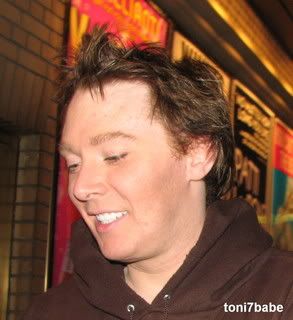 Clay's first run in "Spamalot" had a noticeable effect on box office. Weekly sales for the tuner surged the week Aiken joined the cast and took a steep tumble the frame after he departed. The sales shot up again when he returned in September.
I have no doubt that whatever Clay does next he will shine like the true star that he is.
So, Clay, what will it be?


Thank you to all for your visits and support to my page!