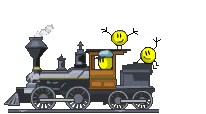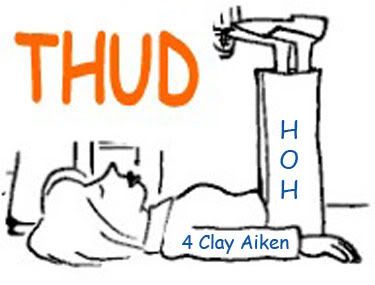 Head Over Heels for Clay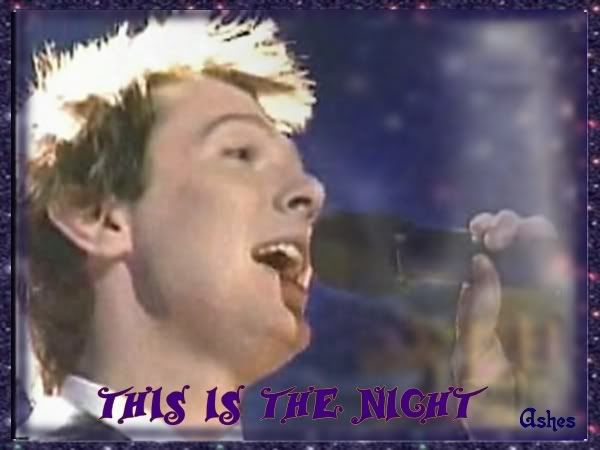 This Is the Night
The "X" Factor
By W. Scott Pavone
Jun 18, 2003
Thank you to The Ideal Idol for having this article in your achieves
Clay Aiken The Ideal Idol
Yes, The X Factor that we have heard so much about is being actualized in the likes of Clay Aiken. What is "The X Factor"? It is the intangible quality about someone that makes him or her attractive to us. It's that "certain something" that one possesses that you can't quite put your finger on or put a name to, yet it's very real and present none-the-less.
Well, I have a name for Clay's X Factor; several names, actually: Personality, Charm, Poise, Openness, Sincerity, Genuineness, Talent, and Humbleness. It's in being worldly yet maintaining an air of innocence. Knowing that you're good but not bragging about it. It's in being amazed everyday that everyone is making such a fuss over you and having such manners and grace in the intense light and frenzy of your ever-growing popularity. It's in changing right before our very eyes and transforming yourself from quirky geek to prince charming. It's in being mature enough to take criticism without letting it destroy you and then taking what has been observed and using it to improve yourself constantly for the better; but, it's also being childlike enough to play, have fun, and experiment with your performances, for you do not take yourself so seriously that you won't.
It's in singing to us and making us feel like you are reaching out and touching our very souls with the depth of feeling you convey in your voice. It's in making us feel special, like you are singing just for us even though you are singing for millions. It's in your warm smiling face that just invites us to come closer and get to know you better. You are approachable and willing to share yourself with others, which lends to you a "down home" goodness and casualness that makes us feel comfortable. So much so, that if we invited you to our family picnic, we feel like you might actually show-up. You are the Average, but now Not-So-Average, Joe; The Ultimate Cinderella Story.
We relish in your success and much deserved recognition. We want to see you go far, to rise high in the realms of stardom, for we know that you will truly appreciate it for what it is, a gift from God to you. And we know, for we have already seen, that you will use your newfound fame and fortune for the good and betterment of those less fortunate. You share your blessings with others in gratitude and we can see that you are thanking God for your blessings in your sharing.
Yes, it's not really too hard to figure out Clay's "X Factor" at all. What's hard is finding enough words to describe his good qualities or finding a place to stop singing his praises. Is Clay truly the American Idol? Nah. That's actually too limiting. He is much better than that; he is now a Worldwide Sensation and Role Model. And whereas we find ourselves liking today's current stars less-and-less with each new revelation we find out about them, we are oppositely finding ourselves liking Clay more-and-more as he is revealing himself to us, and he is so willing to do so. "Open Arms" should be his signature song, for as he reaches out to us with his open arms we are reaching back in kind. So next time you are trying to define what "X Factor" truly means; you need only think of Clay Aiken, for Clay Aiken truly is the embodiment of "The X Factor".
Bridge Over Troubled Water
has a special place in my heart since this performance.
BOTW 2nd performance